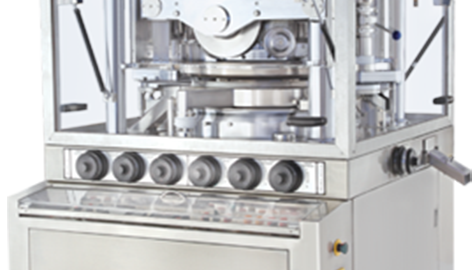 Pill Press – Buy High Speed Tableting Machine, Cheap Rotary Pill Compression Machinery
High speed Tablet Making Machine is the device that compresses the powder into tablet of uniform size with different shape and uniform weight and also called as tablet compressing machine or tableting machine. A Tablet compressing machine can be used to manufacture tablets of a wide variety of materials, including pharmaceuticals, illicit drugs, cleaning products, and cosmetics.
High speed Tableting machines are used commonly in pharmaceutical industry. Millions of tablets can be pressed but using this machines/presses.
The operation of tablet press machine involves compressing of powder substance into tablets shape of uniform size, thickness and weight. The press machine is usable in various industries including cosmetics, cleaning products and pharmaceutical products and also available at very attractive cheap rates to buy. The granular substance is passed through the cavity between two punches and a die form and a force is used to bind the materials together. The tablet press machine is manufactured in two forms which are the single punch models and the rotary tablet press.